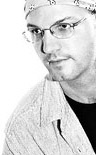 This site is mostly a photo gallery, but some albums have more text then others (if you can read Russian, check out гавайские байки).
My name is Dmitry Azovtsev. I'm a native of Moscow now living in San Francisco Bay Area. I have a degree in applied math and work in a hi-tech company. As I'm sure you can tell by now, I enjoy travel and photography as much as my engineering craft. My photographs have been published in many countries and media outlets — from Wall Street Journal, CNET, Business Traveller Magazine, and Sweden Government web site to a monthly newspaper of Netherlands Otter Society (yes, otter societies exist, thrive, and have newspapers!), in books, magazines, corporate reports, and, of course, on the web.
Unless noted otherwise, I hold copyright on all pictures displayed on this site. Most pictures are available for advertising, design and editorial use. I have them as high-resolution digital images and often there are many variations available in addition to what's shown here. Please contact me if you are interested in publication rights — or just want to tell me how much you enjoyed looking at my photographs :-)
Contact info
Email:
[email protected]
Recent photos
While I'm working on updating this site, you can see some of my recent photographs in
my Flickr photostream
.